For those who have decided to buy an apartment in Thailand, it is worth investigating the common notion of "condominium" or "condo". The difference between a condominium and an ordinary apartment building is the presence of various infrastructures. Among them may be shops, restaurants, bars, gyms, a swimming pool, a park, a parking, a concierge and service management company. For these conveniences you will be charged.
Buying an apartment in such complexes usually implies not only accommodation, but also a return on #investment. This is done by rental on your own or with the help of  a management company which will provide you with a guarantee of safety of your property and tenants service during your absence. Or buying an apartment building at an early stage with an aim to resale it within 2-5 years or more.
Registering apartments in the property
Apartments, unlike land plots, can be registered in full ownership in the name of a foreign citizen. Out of all condominium apartments only 49% can be registered in  full ownership of foreign citizens.
The remaining apartments are sold either to the subjects of the Kingdom of Thailand, or by registration in the property by a Thai company. Often, apartments in this category can be bought much cheaper.
Prices for apartments in Phuket
Prices per square meter of apartments in condominiums amount to the average of 95,000 baht. Depending on the type of materials and decoration, furniture packages, access to the pool and view the cost may vary and reach 120-150 thousand baht per square meter.
The price of an apartment in such a relatively small island like Phuket will depend on the following factors:
District of the island – prestige, access to major roads, distance from the sea, the infrastructure around the condominium;
View – the sea, the mountains, etc.;
Stage of construction – sales begin from a zero cycle.
The difference in the value of an apartment in the same condominium depending on the shape of the window and ownership type and can reach 40%. It is worth remembering that the view in the future will affect the rental price.
One-bedroom apartments in condominiums Chic on Karon Beach and Kamala in the zero cycle of construction (prepared ground communications) are sold at 2-3 million baht.
For the period of 2013-2015 on the island of Phuket  commissioning of more than 1,500 apartments is scheduled. Such excitement is due to high demand and# trends of the local real estate market.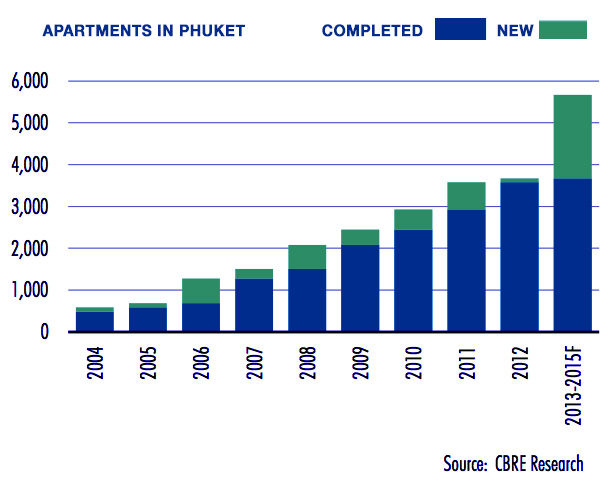 The average price per square meter for all real estate in Thailand in 2012 was about 100,000 baht.
Utility bills and other costs
It is important to know and understand the size of utility payments (community fee, sinking fund), which you will have to pay annually.
The minimum cost of utility payments for condominiums – 60 baht per square meter of the purchased space. In reality, the price is determined by a service company, it can reach 150 baht per square meter. This value is known at purchase.
The minimum cost of utility payments in Phuket condominiums – 60 baht per square meter of property acquired in the year.
This cost includes the total area of ​​service, garbage collection, security, caring for a swimming pool and other services provided by the company. Separately, you can order cleaning, paying bills for electricity and water, during your absence.
Utility bills are paid once a year, a year ahead. Often, when buying a property developer asks to pay utility bills for two years ahead, sometimes payments for a year or two are included in the sale price as a bonus.
Renting / ROI
Each developer or management company at the sale of apartments will offer you a lease. Renting your apartment, you can compensate for utilities, as well as a profit. Some contract guarantee annual return of your investment in the amount of 6%.
Terms guarantees or profit are stipulated in the contract with the management company, which specifies the cost of rent, percentage of service, terms of free or reduced-residence for the owner. You can also enter into a contract with an independent real estate agency.