If you are thinking of retirement in Phuket now is a best time. Phuket is rapidly developing and land prices grows at least 10% per year for the last 4 years. There are still good areas to buy a house for your happy future on tropical island not far from beach.
Rawai Vip Villas is a private resort community which was started with the idea of  retirement homes and we went further with the concept giving opportunity for the buyer to get Guaranteed Return from their investment, while they are not moved to Phuket.
First buyers can get off-pland prices and within 6-8 months when their house is ready they can start rent it out. Owners at Rawai Vip Villas are offered with Guaranteed Rent Program which includes all services for their houses and the only thing Owner need to do is collect his revenue every three month.
Phuket is the most popular resort in Thailand which is constanly ranked among the world's best place to retire. Phuket is probably the most expensive resort if you compare with other parts of Thailand, but when you compare with other countries it is very reasonable place to stay. When you buy house in Phuket you get the piece of land good value growth and there are reasons for this growth, such as increasing amount of tourists, stable economic, ASEAS expansion, new huge investments in Phuket's infrastructure – new hospitals, airport, roads, shoppings, international schools. And Phuket's land availability is limited, so within 5-10 years there should be more interest in buying property here, thats why developers are hunting for good locations and Buyers looking for the projects with good future surrounding.
10 reasons to retire in Phuket
1. Sandy beaches and paradise islands
Phuket Island is famous because of its beaches. From North to South Phuket has more than 30 different beaches from small harbours to many kilometers of wide sandy beaches, everyone can find a favourite beach. Southern Phuket most popular beaches are Naiharm, Kata, Karon – these are long wide beaches, but there are Yaniu, Laem Ka, Friendship beaches for those who like small cozy beaches.
2. Weather
Figurally there are two season in Phuket. High season is from December and to May – within this period the temperature is about 30-35 degrees, sunny sky, the beaches on the west coast are in perfect condition.
Within the low season the temperature goes down to 26-28 degrees, sometimes there are windy on the west coast and beaches have waves.
For the most of expats low season is the best time to relax, the monsoons are rare, short and warm, the island looks lush and green at this time. There are not so many tourists and this is the most quiet and comfortable time to enjoy tropical life.
3. Thai People
Thailand is the place where you will learn to smile from heart. You get lots of smiles from unknown Thai people every day wherever you go. The smile in Thailand helps to solve lots of problems and make more friends. The Thai people love a big smile from a foreigners.
4. Hospitality
Number of spas, massage parlors, places to stay on the banks of the level of service down enough for millions of tourists and thousands of expats.
5. Expat community
More than 25,000 expats chose Phuket as a permanent residence and more than 100,000 foreigners living here longer than 4 months a year. You will never feel lonely, no matter what language you speak.
6. Food
Thai cuisine is considered the most sophisticated in the world, but if you get tired of it, you're sure to find her. As a consequence of the number of expats on the island huge number of restaurants of any European country. There are a lot of Italian, French, German, Scandinavian restaurants, there are also Jewish and Mexican restaurants.
7. Shopping centres
Currently in Phuket has two large shopping and entertainment center, capable of meeting all the vital needs of tourists and residents. Also there is a huge number of specialty stores with goods for the home, garden, repair, construction, furniture, decoration and other shops.
It is already planned development of one more shopping centers by The Mall company in the amount of investment of more than 20 billion baht within next few years. Still the hugest Phuket's shopping centre Central Festival doubled his area for the last years and and continue development of one more building.
8. International airport
The Phuket International Airport capacity will grow from 8 to 20 million passengers per year when the new terminal will be complete in 2017. Today there are lots of direct flights to almost any country in the world.  Hong Kong and Singapore are just few hours fly from Phuket.
9. Hospitals and health care
Hospitals with high standard of service and the most friendly staff in the world.
10. International Schools
Your family can stay near you and your grand children can have Cambridge School education in Phuket.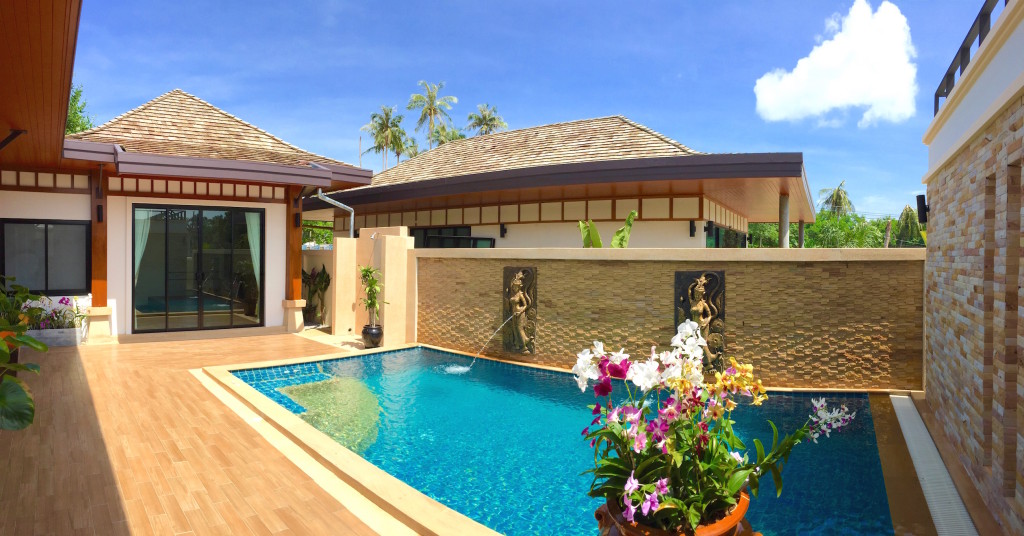 Retirement property with Rental Income
To get the most benefit from your investment it is not necessarily to wait for retirement time. You can buy house in Phuket now and use it as a holiday home or get a guaranteed rental income (6% per year) from our company. For several years you are better acquainted with the area and when the time comes to move in, you come here as to a family home. Even if you are not interested in Guaranteed Rent Program our company offers stable rent income for the time your house is available.
Rawai Vip Villas is the largest villas community in Southern Phuket
Location. Location. Location.
Private pool villas located 300m from Rawai beachfront with developed infrastructure. Rawai District – the most quiet area in Southern Phuket which is close to beautiful beaches  – Naiharn, Yanui, Laem Ka. Find out more details about Rawai Vip Villa project here >
Investment perspectives – 10-15% value growth on project completion
If you buy house in Phase 1, the value of your property will grow up for 10-15% when we will complete Phases 2,3. You should see our location by your own eyes to believe this will happen.
Rawai area experiencing a time of development, the next 5-10 years there will be the most attractive places to live in South of Phuket island, new property projects, bayshore development, the authorities also plan to expand the municipality Rawai pier, there may appear a yacht club. All these prerequisites are talking about the benefits of investing in this area.