Construction site of VIP KATA 2 Condominium
Let's observe the construction process of VIP KATA 2 Condominium. Photo below shows VIP KATA 2 Condominium construction site in August 2018. You can see the initial stage of construction. The construction process of our new condominium development takes less than 2 years. The construction started in August 2018 and completion is scheduled for June 2020.
VIP KATA 2 Condominium Construction Site: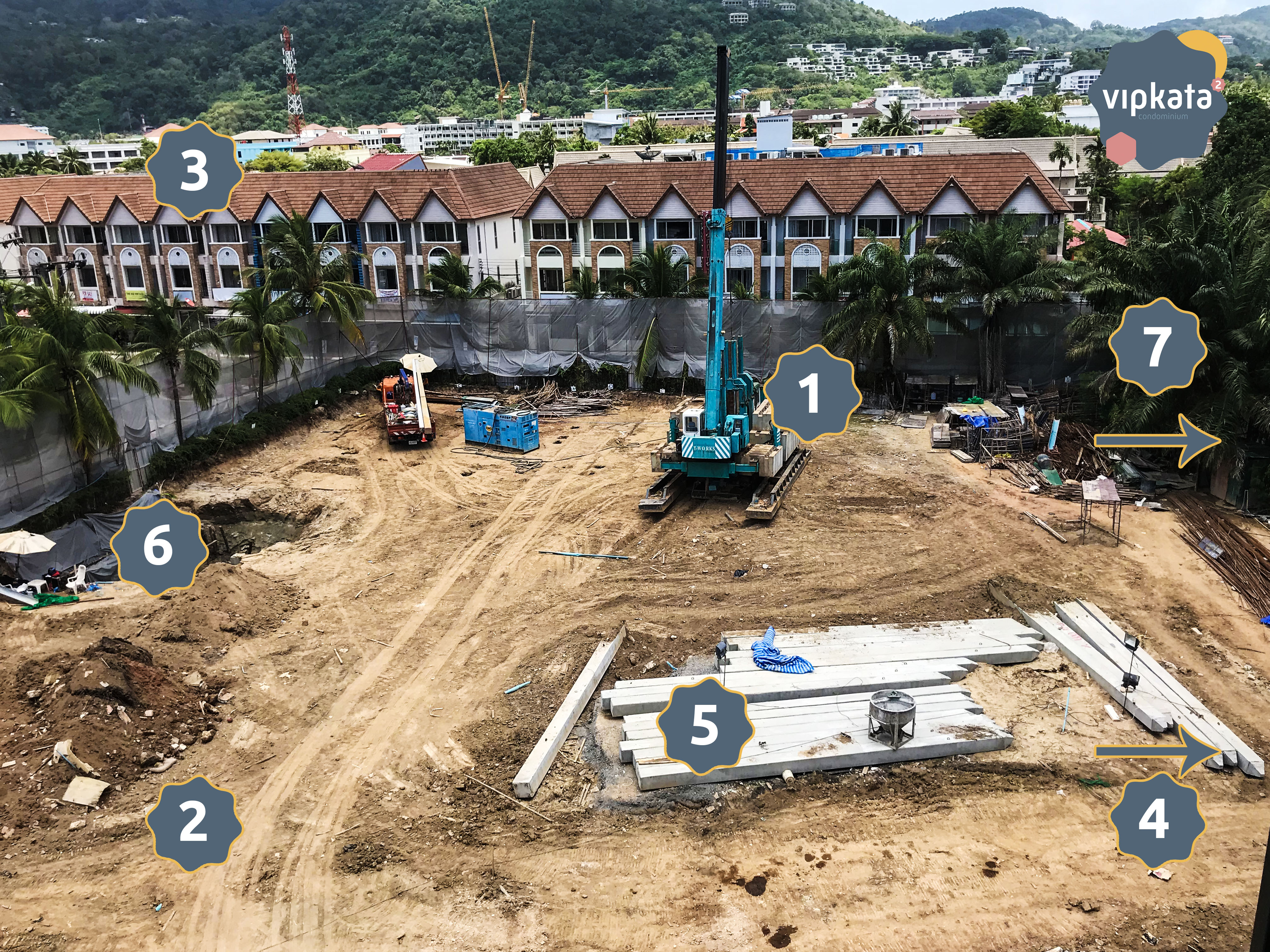 The numbers on the photo show:
Pile Pressing Device (PPD). In VIP KATA² Condominium we press piles to the ground, not hammer it. Such a technology allows to reduce a single pile installation time nearly twice. And what is more important for tourist area, it produces less noise during operation and causes less disturbance.
Land plot. The land plot size is ~4800 sq m (3 rai) which is enough for 2 buildings of 209 condo units. Rai is a Thai land measure  equal to 1600 sq.m. For example, land prices in Kata in similar location start from 50 million baht a rai.
Nearby hotels and restaurants. Next to the construction site are small hotels and guesthouses, restaurants, massage parlors and 24-hour shops. VIP KATA² Condominium will not only add a number of hotel rooms to the area and attract tourists to local businesses, but also improve the area's infrastructure with its 2 new restaurants, a family park, and roof-bars.
Direction towards the beach. Kata Beach is just 500 meters or a 7-minute walk. It's a lovely beach full of tourists at any season. Kata coastal area hotels show 80-90% occupancy from November to April.
Piles. In total, more than 500 piles are used to build two buildings and a common infrastructure. The length of each pile is 19-21 meters. Piles installation will take approximately 45-60 days.
Chink for water supply. Back in March 2018,  today's construction site of VIP KATA² Condominium was the hotel Chaba Resort, with all its engineering networks and communications. Existing communications can shorten the construction period. Now, the existing engineering networks is in a process of modernization.
Grand Kata VIP Hotel. Completed in June 2018, the first phase of VIP KATA Condominium is now a fully-operated 4-star hotel. The construction started late 2016 and took nearly 2 years. Currently, Phuket9 company manages Grand Kata VIP hotel.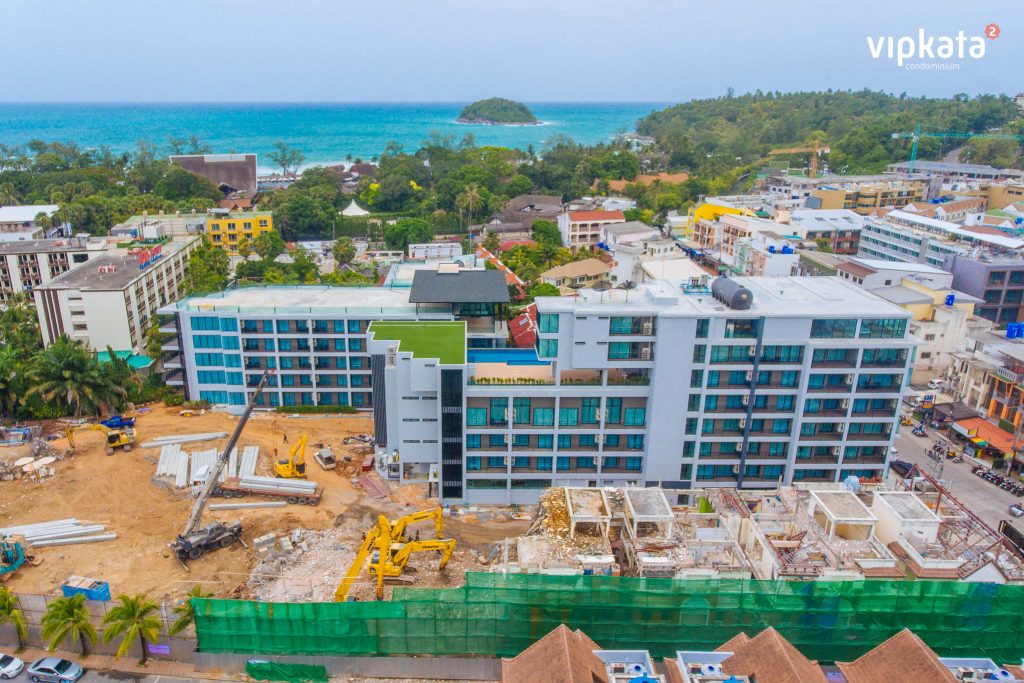 VIP KATA 2 Condominium 3D Render
Below is a 3d render of completed VIP KATA Condominium complex. There will total 4 buildings, 3 separate villas, and even a kids park Construction is scheduled for completion in June 2020.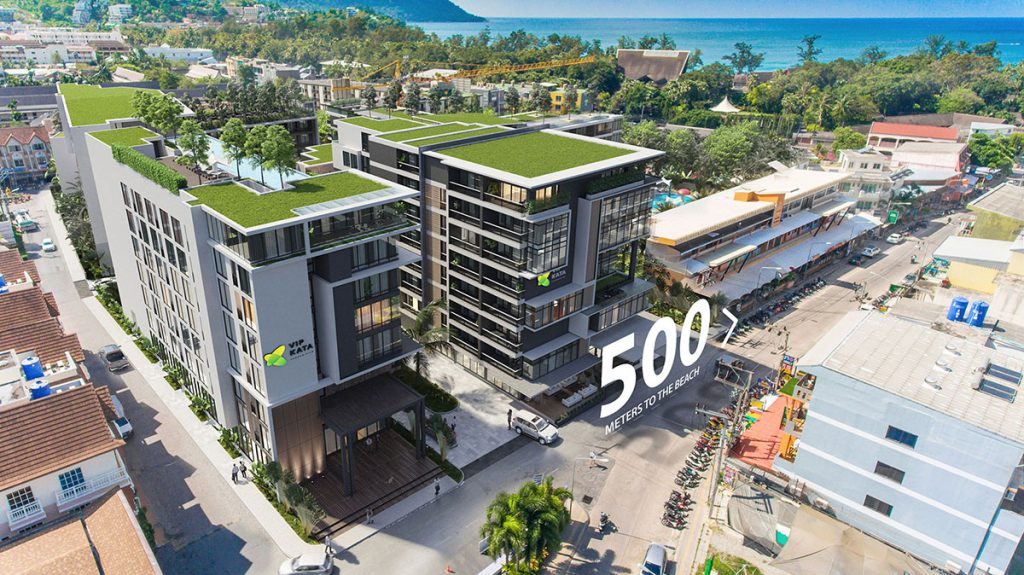 VIP KATA Photo Gallery
Photo gallery from prayer ceremony at construction site of VIP KATA 2 Condominium taken place in September 2018.
VIP KATA 2 — A Right Time to Invest
As long as EIA and construction licenses for the development received and construction itself started – it is the best time for investment. There is no longer a risk of delaying construction as the most important part of the process to get an approval from the government passed. At this moment the prices are at the lowest rate and there is a big choice of units, and freehold option is available.
You can browse development details, location description, see unit photos, prices and rental guarantee program conditions at the VIP KATA Condominium  web-page and contact us for more information.