Phuket Island — the Most Rapidly Growing Resort of Thailand
Phuket Island is one of the main tourist destinations not only in Asia, but all over the world. Phuket airport accept on average 20 flight per hour, 24/7 from Asian and European countries. For the past 5 years the tourist arrivals were up by two times, from 5 millions in 2012 up to 9 millions in 2017.  With the opening of new airport in 2020 it is expected that ridership will up to 15 millions per year.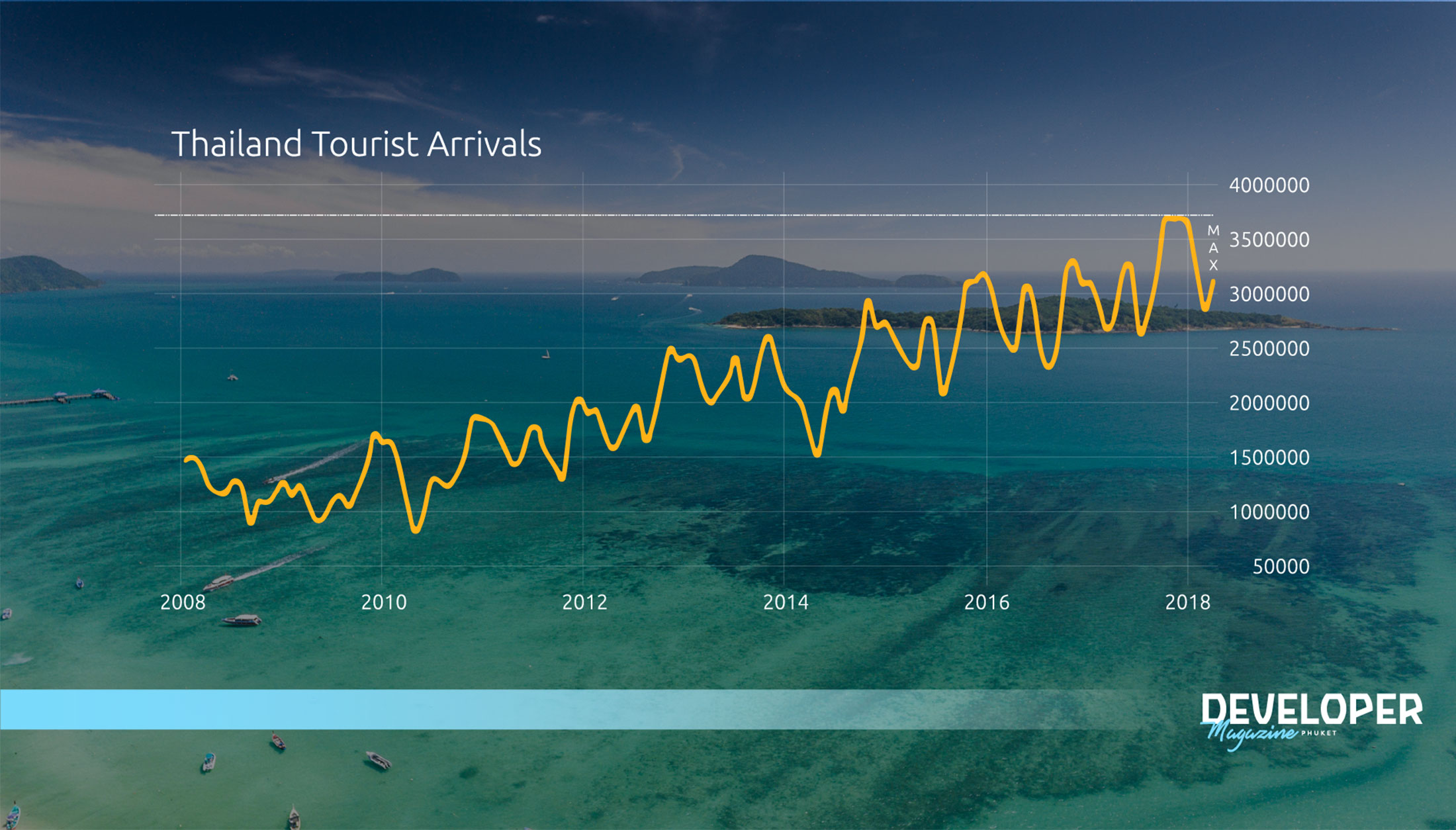 Phuket is the most famous resort among guests from China, Russia, South Korea, Malaysia and countries of European Union. Level of Chinese tourists ranked first among all guests – 4 million people per year.
What attracts tourists on Phuket Island?
Unique combination of geographic, culture, fresh fruits, seafood, Thai hospitality, warm ocean and 225 sunny days per year – that's why a million of tourists are visiting Phuket Island all year around despite the season..
Sandy beaches with emerald water, beautiful temples, statue of Big Buddha, old Phuket town, viewpoints, tours on the neighboring uninhabited islands, shows and parks with entertainment – diversity of places in Phuket will fill the vacation with unforgettable memories regardless from the duration of stay.
Choice of housing for tourists  for all tastes and wallet. From small hotels to spacious villas and 5 star hotel complexes. Spa services, family resorts with kids entertainments, rejuvenation and recovery centers. Everyone can find a place as for a short vacation also as for a long stay.
Phuket also popular among Thai people. This is the biggest island of Thailand, more than 50 regular flights per day from Bangkok convey more than 1.5 million tourist from all country.
Now, Phuket also attract expats – here is international schools, developed infrastructure in the form of public and private medical facilities, shopping malls. Infrastructure of roads and hotel complexes is actively developing.
Investment attractiveness of Phuket
Permanent increasing of touristic flow provides stable annually price increase for real estate. Phuket Real Estate sphere is going through the boost. Potential of influx of tourists, limitation of island real estate development pushes the investors around the world to buy an apartments, villas and land property in Phuket. Every year real estate developers offers new projects of condominiums, villas and hotels.
 
Over the past 10 years the cost of land is increasing by 5-10% per year.  Developers and management companies ensure to customers stable income from the rent from 6% per annum. Project in the immediate proximity to the sea sold on the stage of the construction.
What does Phuket expect in 5-10 years?
What providing such a firmness of real estate developers in price increasing and stable income from the rent?

Based on the past experience in period of worldwide crisis we can notice one fact. The market stability of rent is ensured by replacing of touristic flows. Until 2012 the leader of tourist flow were Russia and after RUB devaluation the first place was taken by China.
Possible, the next big player could be India. Some Months in the year such as January and February almost entirely filled with tourists from Europe. July and August are popular among tourists from New Zealand and Australia. Tourists from Singapore and Hong Kong are arriving almost whole year. Phuket Island also popular among Malaysians.
Phuket Island
More than 30 beaches, comfortable and rapidly developing infrastructure, resort climate, convenient geographical location, Thai hospitality. All this makes Phuket attractive for tourists and investors.
The future of Phuket
Considering that there are fewer places for the construction of new hotels and condominiums, and Thailand is aggressively promoting Phuket as the main tourist resort, it is to be expected that the rental market will be in demand for many years to come. In addition, the goal of the Government of Thailand for the next decade is to increase the flow of tourists and profits from the tourism industry by half.
Such plans attract more and more investments in the tourist areas of the country, including Phuket, as one of the main and most attractive for tourists of the province of the Kingdom.
Sources: