Phuket Smart Bus Launched. From Airport to Rawai for 170 Baht.
The possibilities of public transport in Phuket have received an innovation in the form of a new project Phuket Smart Bus. A new bus route linking Phuket International Airport (Thailand's second largest) to the southern Rawai district. The project implemented by the Phuket City Development consortium has a number of advantages, including the budgetary price range of the service and the lack of similar offers.
Smart Bus Route
On the route with a length of almost 40 kilometers, today there are 10 modern Mercedes-Benz buses. Each of the buses (costing the company 4 million baht per unit) is equipped with air conditioning, wireless Internet and USB-connectors for charging gadgets. The entrance and exit of the bus is equipped with a wheelchair ramp, and for security purposes, remote-controlled CCTV cameras are installed in the cabin. Each bus has luggage compartments, which allows passengers to stay in the cabin with proper comfort. Each of the buses provides a one-time maximum load of 24 passengers.

Smart Bus Online Monitoring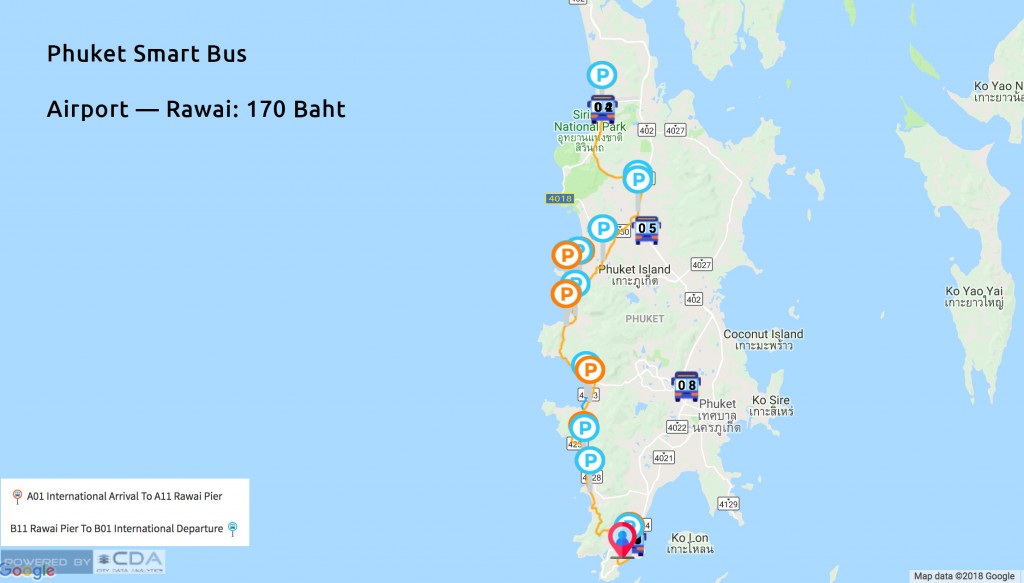 You can monitor the movement of buses on the site, where in real time, the movement of vehicles and the arrival time of the bus to a particular stop is displayed. The average travel time from the international airport terminal to Rawai Pier takes about two hours depending on traffic jams.
Phuket Smart Bus Timetable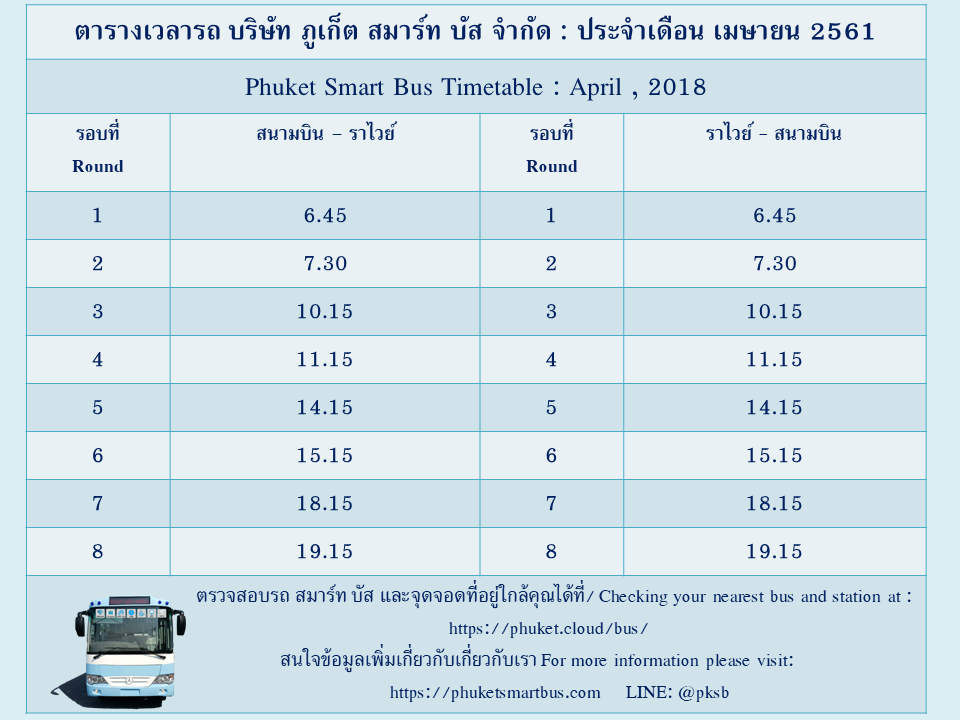 The route runs through virtually all the famous areas of Phuket: Bang Tao, Surin, Kamala, Patong, Karon, Kata and Rawai. There are 11 stops on the whole route. The fare varies depending on the distance, the maximum fare from the airport to Rawai is 170 Baht, which is much cheaper than the usual shuttle buses and taxis.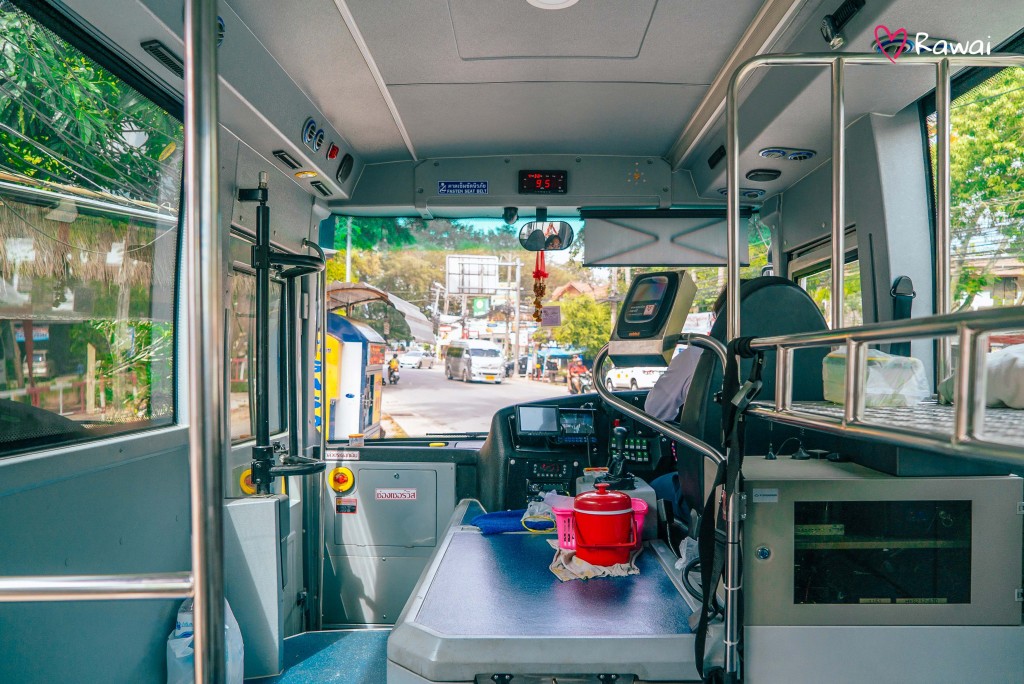 How to Pay for Phuket's Smart Bus Service
The fare can be paid by bank transfer through bank cards, or by a special Rabbit card, which you can buy directly on the bus, and replenish the balance at any of the 7/11 and Family Mart supermarkets. By the way, the funds credited to the Rabbit card can be used in supermarkets, McDonalds, Dairy Queen, The Pizza Company, Burger King, The Coffee Club, Bread Talks, Swensen's, Sizzler and many others.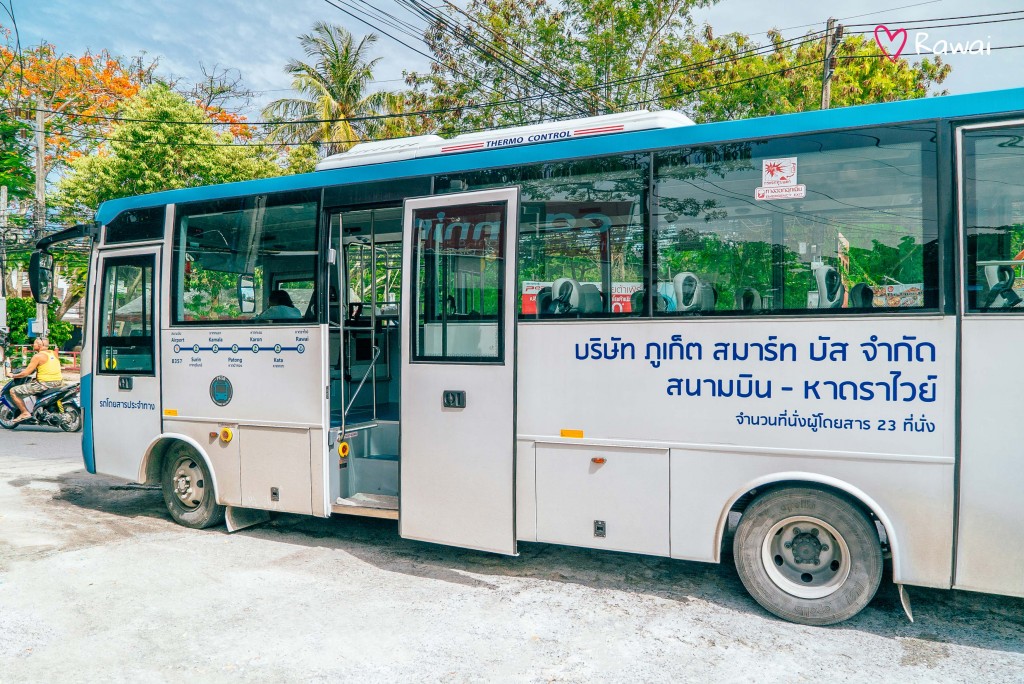 The company plans to increase the number of stops to 25 and launch additional buses. The main objective of which is guided by Phuket City Development realizing the Phuket Smart Bus project is the unloading of the island's transport infrastructure and provision of budgetary transferring services to as many Phuket guests as possible.
Image source: Love Rawai
Phuket Smart Bus
Photos of smart bus taken at Rawai Beach.