A-Z New Condominiums in Phuket — All New Developments
What is a condominium
Condominium is a residential complex with common area and infrastructure and a special license. Foreigners can own condominium units in their personal names. Condominiums are the most common type of housing that is acquired by foreigners in Thailand.
The purpose of buying a condominium unit
The main purpose of buying a condominium in Phuket is an investment. A condominium license allows managing companies to obtain a hotel license in the future. Which makes it possible to rent the units out on a daily basis and make a high rental yield for unit owners.
Variety of condominiums in Phuket
There are ~ 60 new developments with a total of 8-10 thousand condo units coming at Phuket real estate market in 2018-2020. Such a big choice entails some difficulties for a potential buyer.
The main problem of choosing a condo unit in Phuket is a lack of information about all projects for comparison. In most cases, a buyer is not able to evaluate the offers made by a real estate agent. For more informative decision on the property investment it is necessary to understand the difference about the location, land costs, infrastructure and the future of the area.
The difference in land prices on Phuket can be tenfold. Same-size plots located in different areas or distances from the beach can differ in price as much as 5 million and 150 million baht. At the same time, the cost per square meter of an apartment in projects with different locations can be similar, usually the prices are around 80-120 thousand baht per square meter of completed condo unit with furniture package.
Compare of infrastructure and prospects
Phuket infrastructure is actively developing and changing. To understand the future of the area you have to learn about both completed and coming projects. These may be competing projects that will affect the occupancy and rental income of the selected condominium. Other projects such as shopping centers, new restaurants, entertainment complexes (water park, kids park, etc.) that will increase the interest in the area and the rental demand.
Phuket condominiums from A to Z
The condominium list is to help you to understand and analyze the property development market. You may use data from this website, but note it is regularly updated.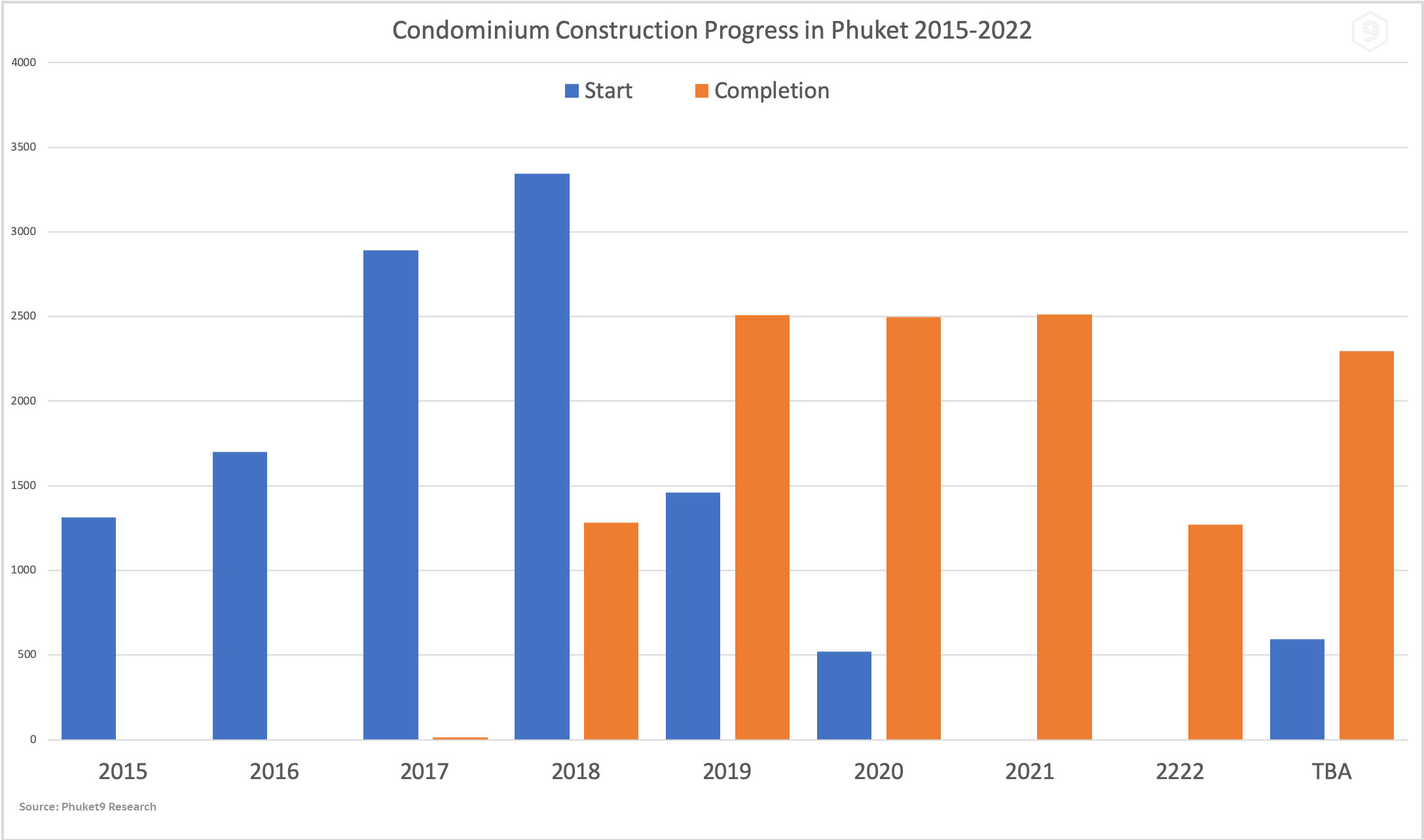 Please scroll table to the right to see more information, such as prices, EIA approvals, projects website URL and developers contact information.
If you need more details about projects in Phuket or any recommendations or actual information about current construction and prices or our professional advice, please contact us.
Disclaimer for A-Z Phuket Condominiums List
The information is taken from open sources. Feel free to download and use all data at your own convenience. If you find any mistake or missed data and would like to update this list, please send information to office@phuket9.com. 
#
777 Beach Condo
A
Aristo Karon
Aristo Patong
Aristotle Condo Surin
B
Baan Maikhao
Babylon Sky Garden
Bluepoint Condo
Breeze Park Condotel
C
Calypso Garden Residences
Citygate
Coco Sea Naiharn
D
Dhawa Residences
Diamond Bangtao
G
Grand Himalai
H
Himalai Kamala
I
Infinity
S
Seventh Sky
Sheraton Grand Bay
Sole Mio Condominium
Space Condominium
Splendid Condo
Surin Sands Condo
T
The Marin
The Peaks Residence
The Proud Rawai
The Proud Residence Karon
The Title Residencies Naiyang
U
Utopia Karon
Utopia Naiharn
V
All condominiums and villas in Phuket:
A-Z Phuket Condominiums
Download full project listing
Get construction updates
List of services Phuket9
Investment property for sale - condominiums and villas in Phuket
Phuket9 has information on all relevant Phuket projects suitable for investment and rental income. We regularly analyze the market and publish reports on the current state of the market and construction on the island at our website.
Turn-key construction of any complexity
The Phuket9 company is able to ensure the construction of facilities of any complexity from the search for a land plot, development of a concept, architectural plans, obtaining permits, and launching the projects into operation with subsequent management. e investments.
Legal advice
With rich practical experience in conducting transactions on sale, registration of real estate in Thailand, the company team is able to share tips in solving problems of any complexity. We will guide you how to act and what measures to take in order to save time, money and avoid risky actions.
The cost of services - who pays the commission?
In Thailand, the seller pays a commission
Sellers and developers in Thailand pay a fee for the transaction from their part to an agents or partners.
The buyer has the opportunity to choose any agency and any project, while receiving qualified assistance in conducting a purchase and sale transaction for free (excluding property transfer taxes).
Agency services are free for the buyer
Almost all agencies in Phuket provide primary verification of contracts and documents of developers. Agents inform customers about the availability of building permits. They accompany the client during the transaction, from the provision of relevant information about projects on the island and the stages of construction, to the time the building is put into operation, registration of property.
Optionally, agencies can offer optional real estate management services for the buyers with their own conditions.
Legal advice and verification of contracts by a lawyer
We provide initial legal advice for free, which may help you to choose the right option of the services from third-pary lawyer not to overpay. Still ff you need to check or draw up a contract by a Thai lawyer with a translation into any language, the cost of the service woulbe from $ 1,000. Most of the agents will also offer you such options to be more save.
Additional services and bonuses for customers
Real Estate Sightseeing Tour
After clarifying the needs of the buyer, understanding the class of investing, expectations of the purchase and approximate budgets, we will offer from 3 to 5 the most suitable projects that are worth considering for investment. Then we will schedule a visit with you.
Flight Compensation or Free Stay
Some agencies offer compensation for flights or free stays of 2-5 nights in condominiums or villas in Phuket. If you deal with us, we will cont your stay into first transaction. Please contact for details.
Meeting at the airport
If you're already scheduled viewings of our suggested project, please do not hesistate to requet airport transfer to your hotel. You're welcome!
Project Acceptance Service
If you purchase an зкоусе under construction, then at the time of completion it is necessary to take it from the developer and sign the acceptance certificate. Usually the agency will do this for free. For our projects we are happy to assist you during your visit.