In the past decade, 10 out of Phuket's 13 international schools were established, reAlecting quality sustainable growth is pushing expansion in the education sector. This momentum is showing no sign of slowing, as student enrollment continues to rise and existing schools are adding new facilities.
62% of island's international school students are foreign
Phuket is becoming more attractive for families with children, not only for holiday but also longer stays. Phuket has evolved into a formidable education hub for foreign students propelled by its attraction to expatriate families who value Phuket's airport connectivity, quality international healthcare, reAined residential offerings and the thriving tourism industry.
Key trends
Newer offerings such as Kajonkiet International School Phuket (KISP) and HeadStart International School (HeadStart) have expanded the market by broadening market reach.
Key differentiating elements for international schools are curriculum, accreditations, certiPications, facilities, and teaching philosophy.
The top 5 nationalities of foreign students are British, Russian, American, Australian, and South Korean.
Market overview
There are 2,508 students from Preschool to Grade 12 (Year 13) enrolled in the island's 13 international schools.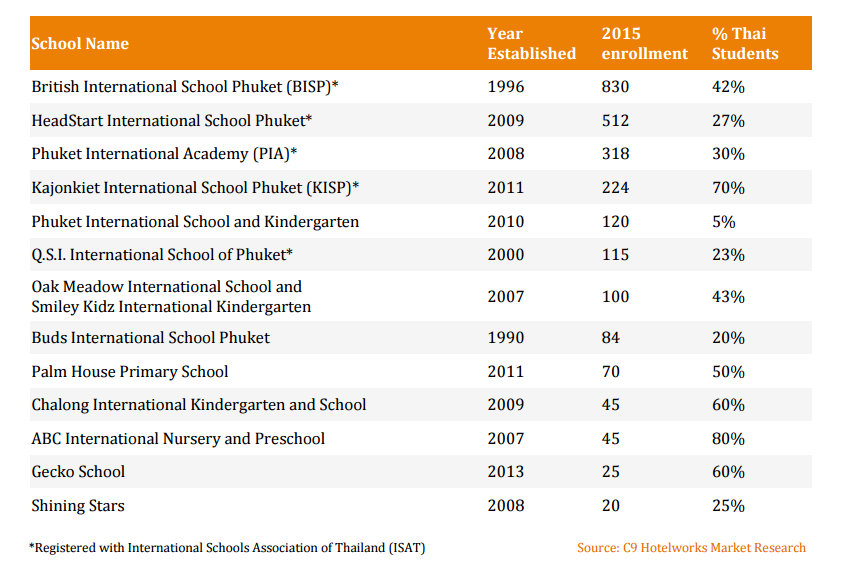 Tuition Fees
Range of tuition fees amongst island's international schools is growing as new providers open. International schools average cost 2 to 5 times more than Thai schools with an English program (EP).
Source: C9 Hotelworks Market Research, December 2015
Full version here.
Stable growth in the field of expensive education is another indicator of the dynamic development of Phuket. Here you will find other areas of Phuket development: