Large Villas for Group Travelers in Phuket for Rent
Rental market in Phuket is rapidly developing due to online reservations system. Today it is possible to book a villa of any type just within 10-20 minutes. Villa owners rent their property out with the help of Booking.com, Agoda.com, Airbnb.com, Ctrip.com, etc. so act like hotels attracting tenants.
As for tenants, they benefit in having a bigger choice of accommodation so now their choice is not restricted by hotel rooms only, they can rent an apartment in condominium that is well serviced and includes everything needed or can rent a pool villa with a needed amount of bedrooms.
That is why more and more tourists plan their vacation by themselves, without buying a package from tourist agencies, and this way arrange a unique, convenient tour and, what is also very important, not expensive.
Traveling by large groups to Phuket
Let's consider travelling in a big group of people:
A few families with children
Business trips and meetings
Different events (weddings, masterclasses, seminars)
In these cases a spacious accommodation is needed to fit all the guests in one place, also service and area facilities are very important.
Where there's demand, there's supply. And Phuket9 company has solutions for accommodation of a big company:
Rent of a few apartments in one condominium
Rent of the whole storey or the whole building of condominium
Rent of boutique hotels (30-40 rooms)
Rent of a few villas
Rent of villa complex (8 pool villas)
Rent of separate villas (6-9 bedrooms)
Guests can choose any of the variants above.
Families With Kids Travelling Together to Phuket
6 Bedroom Pool Villa in Rawai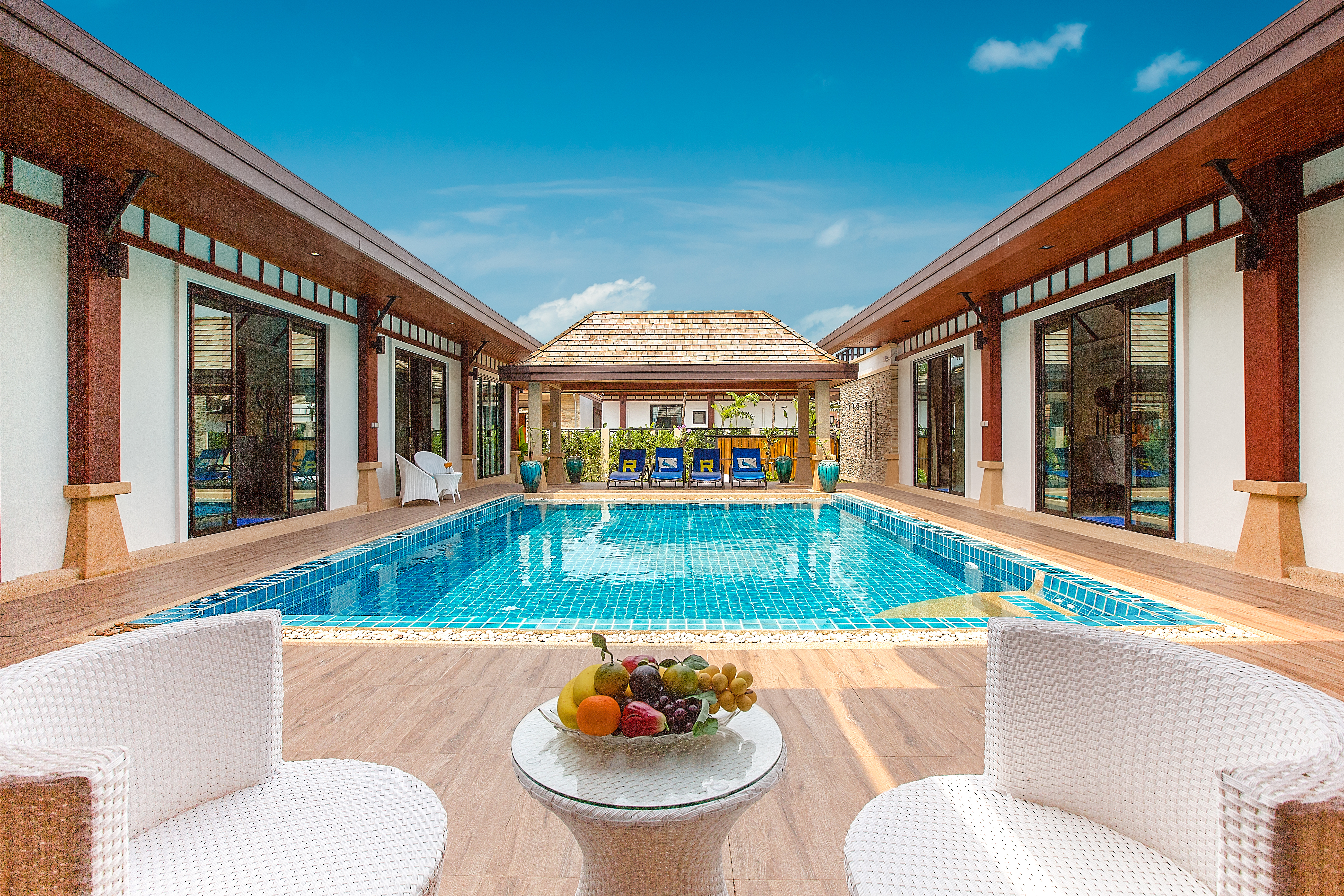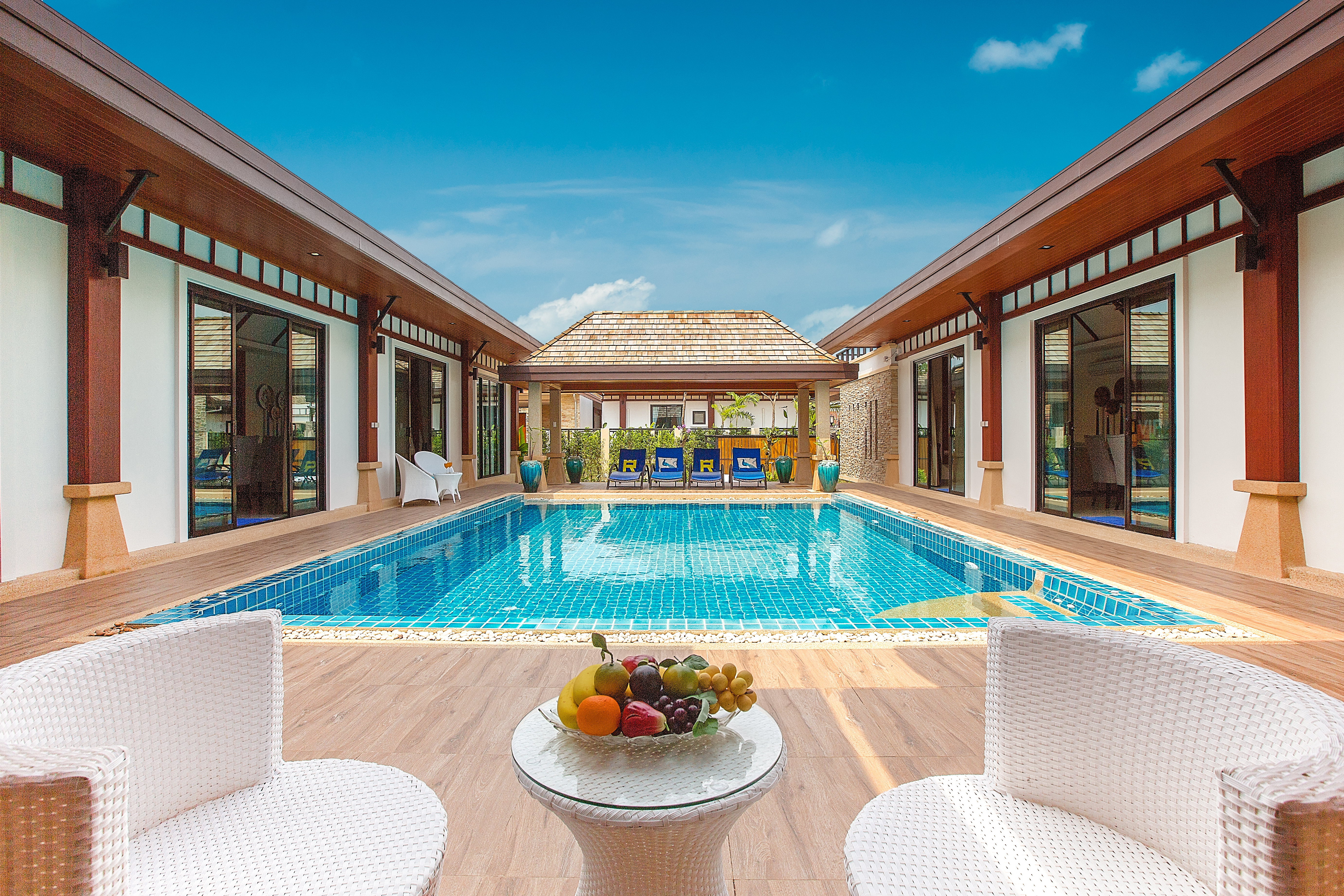 The best option for 3-4 families traveling with kids will be a 6 bedroom pool villa in Rawai VIP Villas complex. It is a spacious villa with a large swimming-pool, two living-rooms and fully-equipped kitchens. Each bedroom has en suit bathroom and private exit to the pool. Area facilities include kids park with playground and kids swimming-pool with water slides, restaurant, SPA center. Rent of this villa type for 12 people starts from 865 USD per night or 140 USD for each bedroom per night. The price includes cleaning, breakfasts. You will have a private terrace with swimming-pool and BBQ area. We provide bicycles for free use. Area facilities are very convenient – have everything you may need. Even though some hotels have similar facilities, the price will be much higher for separate hotel rooms.
You can get more information about 6 bedroom pool villa on our website.
8 Villas Mini-Hotel in Rawai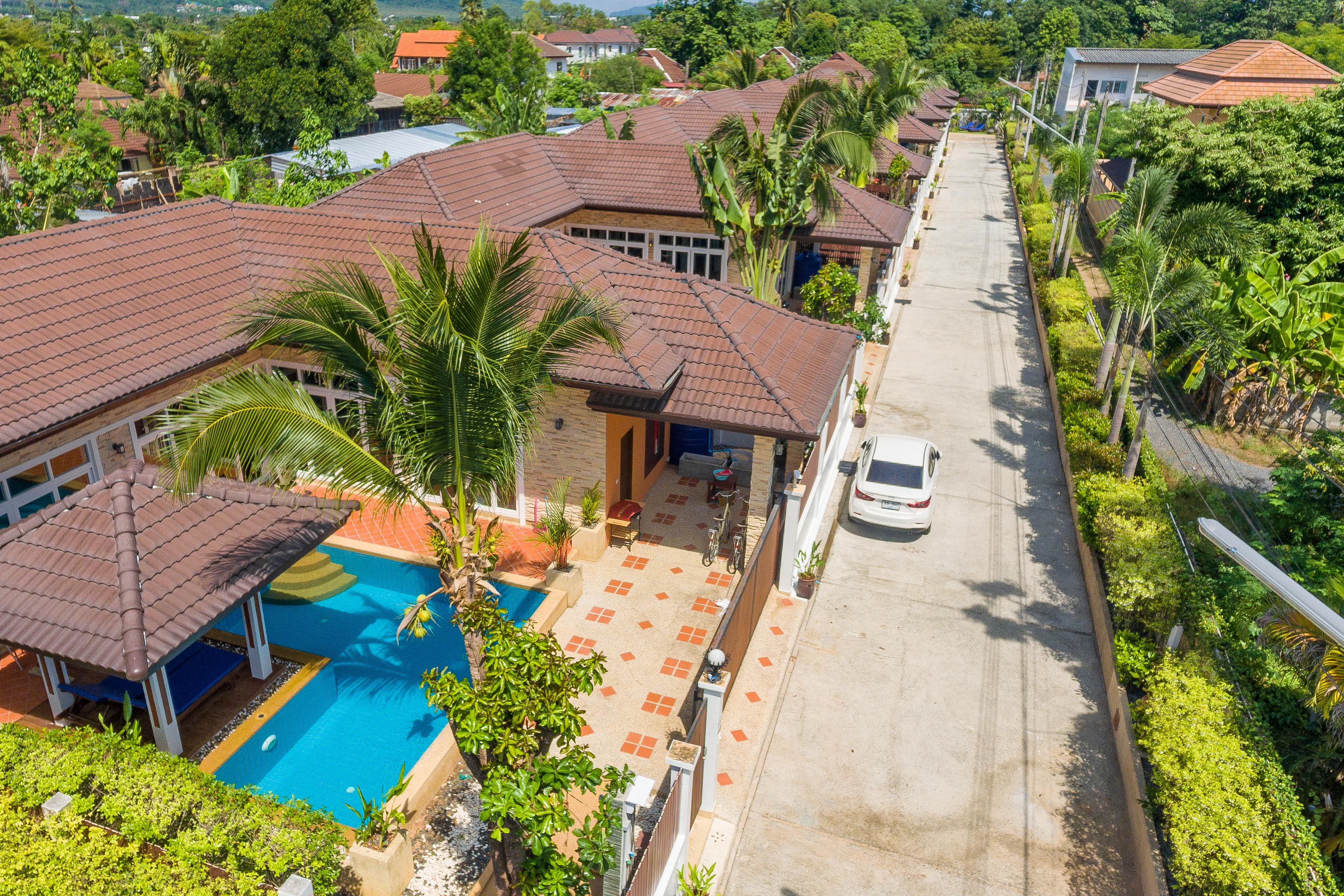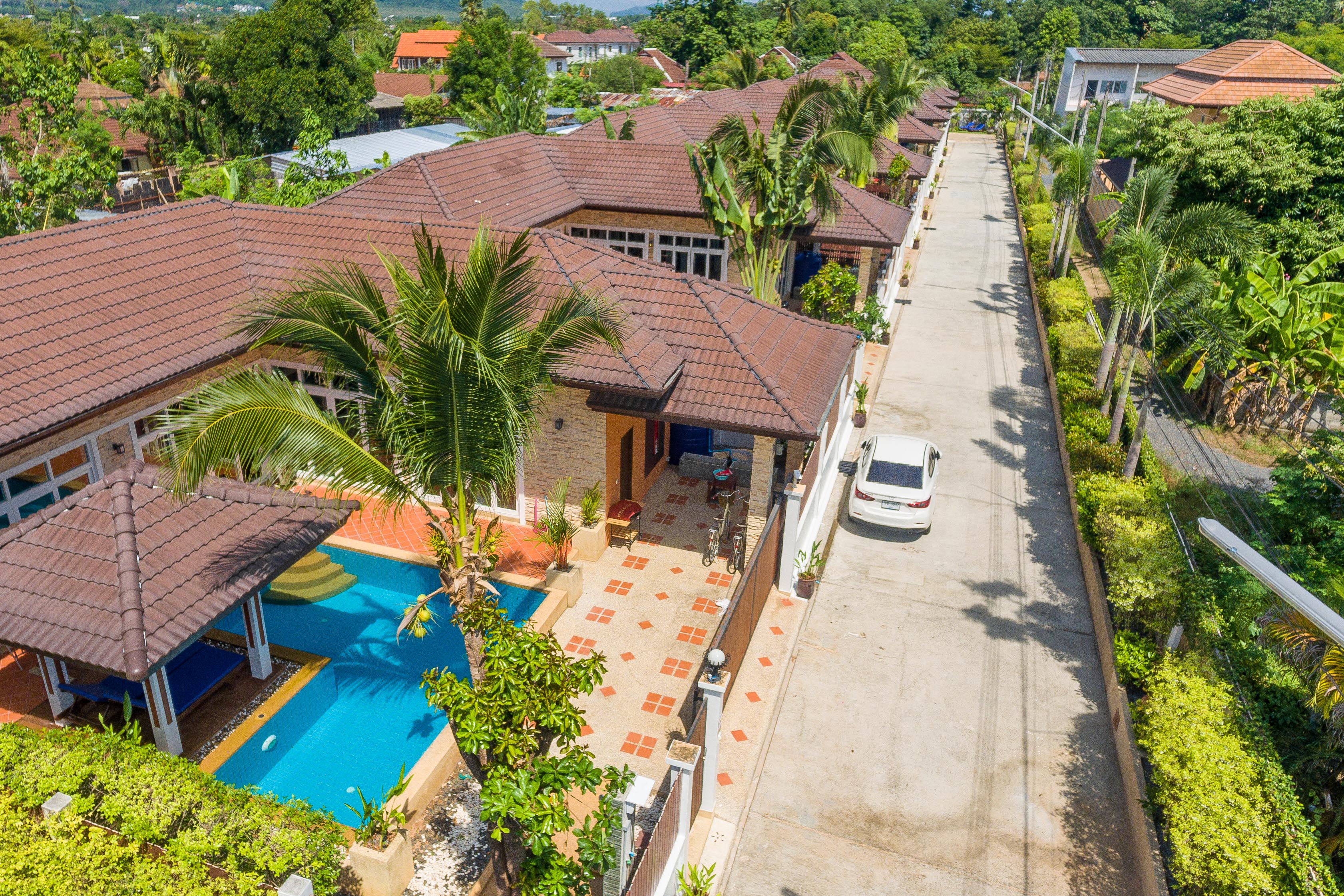 Rawai Private Villas is a complex including 8 villas of the same type (3 bedrooms, living-room with kitchen, private pool, sala, BBQ area). You can book one, two or as many villas as you need next to each other. Each bedroom has en suit bathroom and private exit to the pool so it is rather convenient for 2 or 3 families to rent this type of villa.
Cleaning service is included in the price and also the guests will get free access to Rawai Park located just 300 meters away from the complex.
More details about Rawai Private Villas.
2-3 bedroom apartments in condominium, Kata district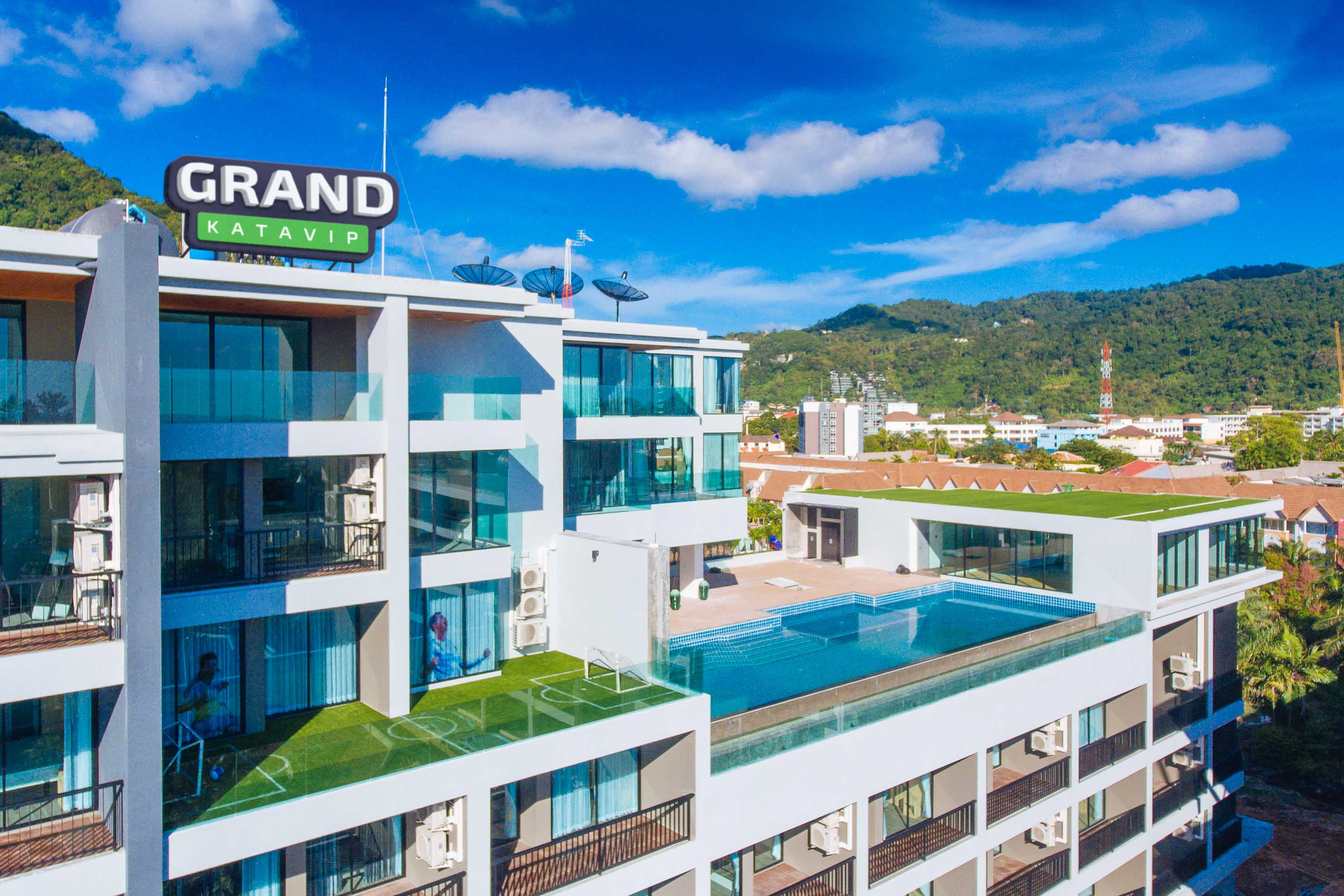 If you are traveling with all of your family and bringing grannies and nannies, the best choice for you will be 2 or 3 bedroom spacious apartment. Phuket9 company can offer such apartments in Grand Kata VIP condominium. Each apartment includes kitchen. In this condominium you can enjoy hotel services, can visit two common swimming-pools, restaurant. Condo is located only 500 meters away from Kata beach.
More details about family hotel Grand Kata VIP.
Business trips and meetings in Phuket
Imagine you need to travel in a group of 10-30 workmates for a long period in Phuket. You will need to find not only just a good accommodation but the place suitable for distant work. We have a solution! You can rent a residence of Phuket9 company – spacious house including 9 studios, large living-room, swimming-pool and fast internet.
Residence 9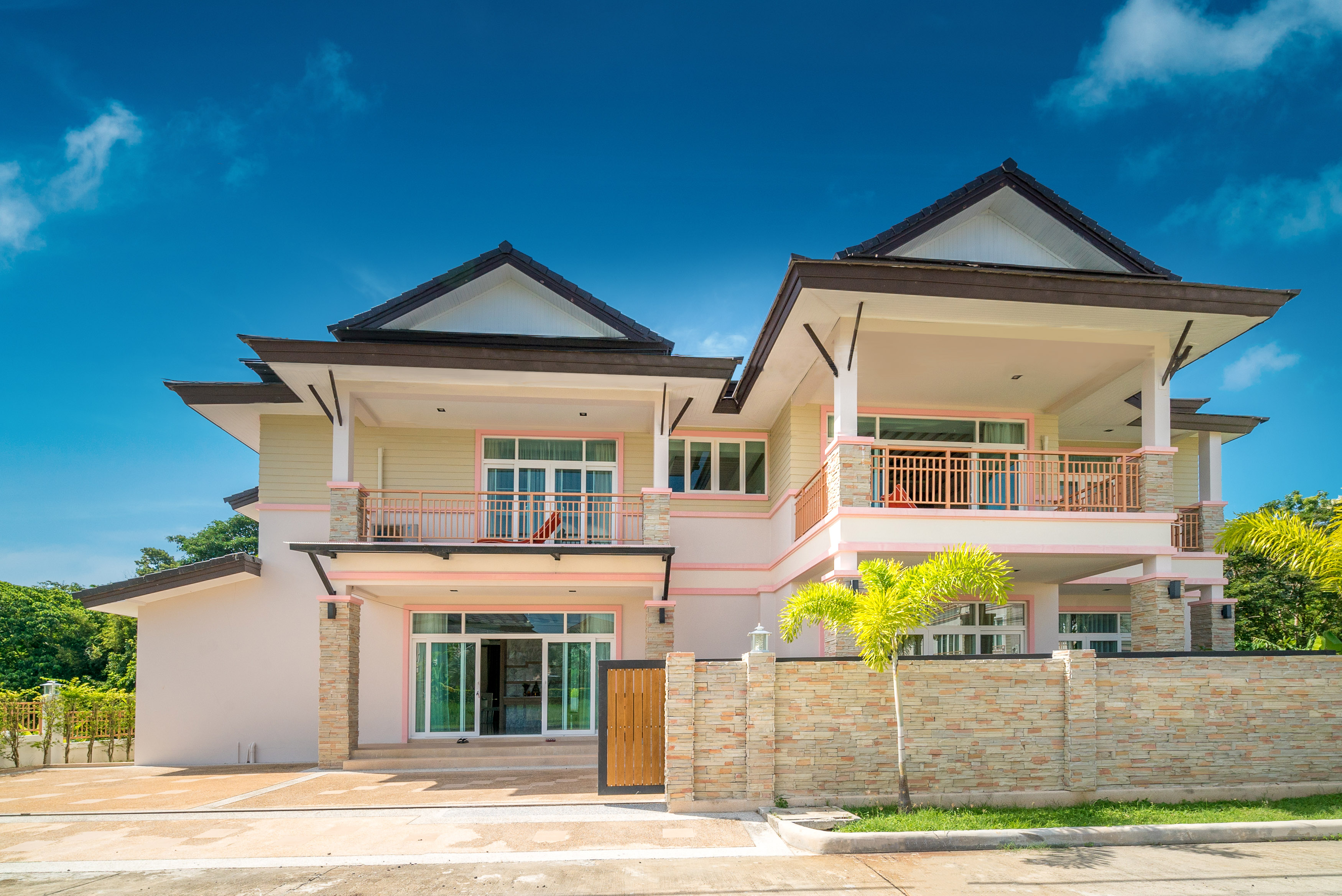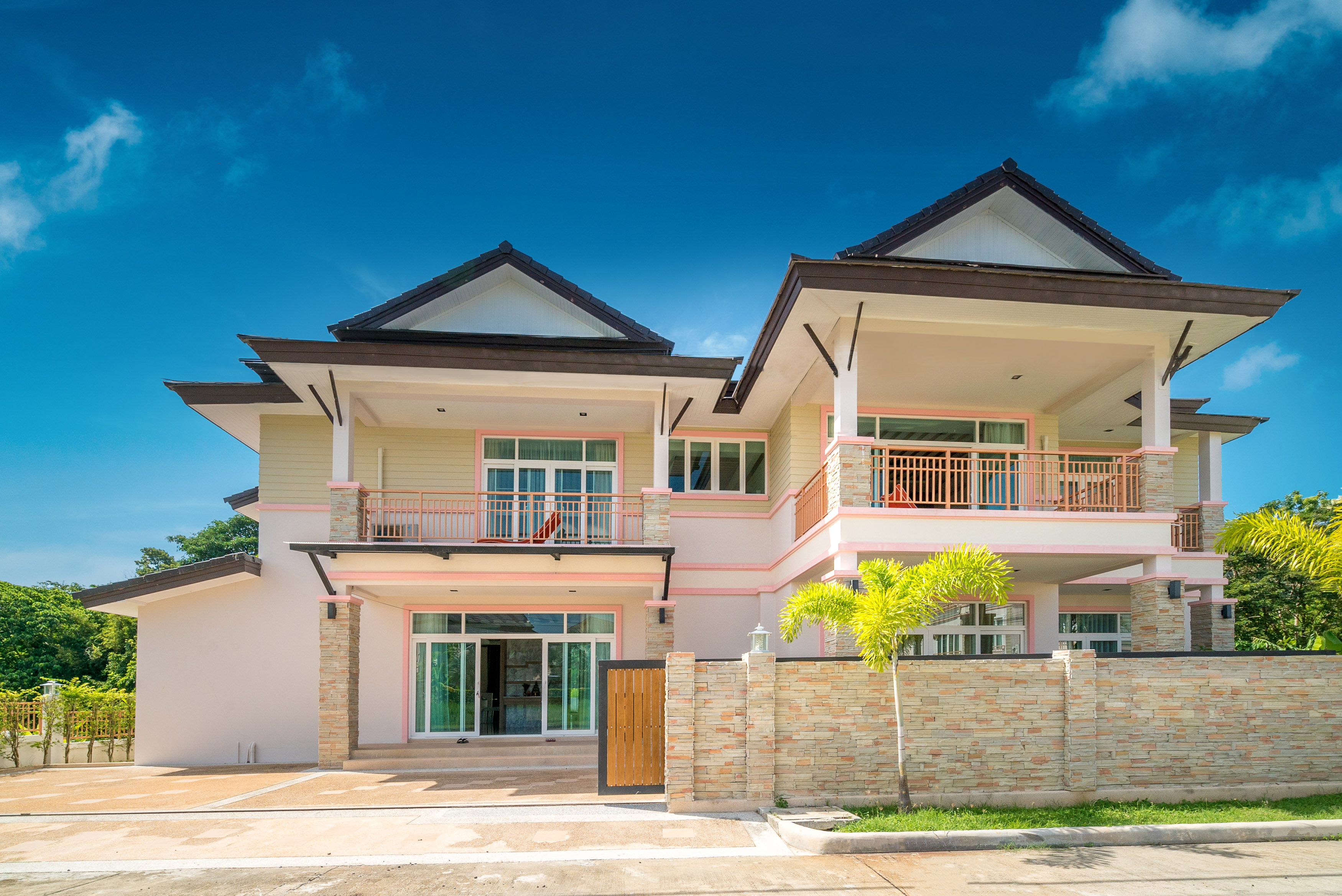 Detached house in Chalong district, quiet place in Phuket9 company complex. Location is convenient for going wherever you need – the beach or shopping malls in the center. Such location is good for people who want to stay long term without need to live in tourist areas with crowded streets and beaches. That is why this location is also a cheaper option.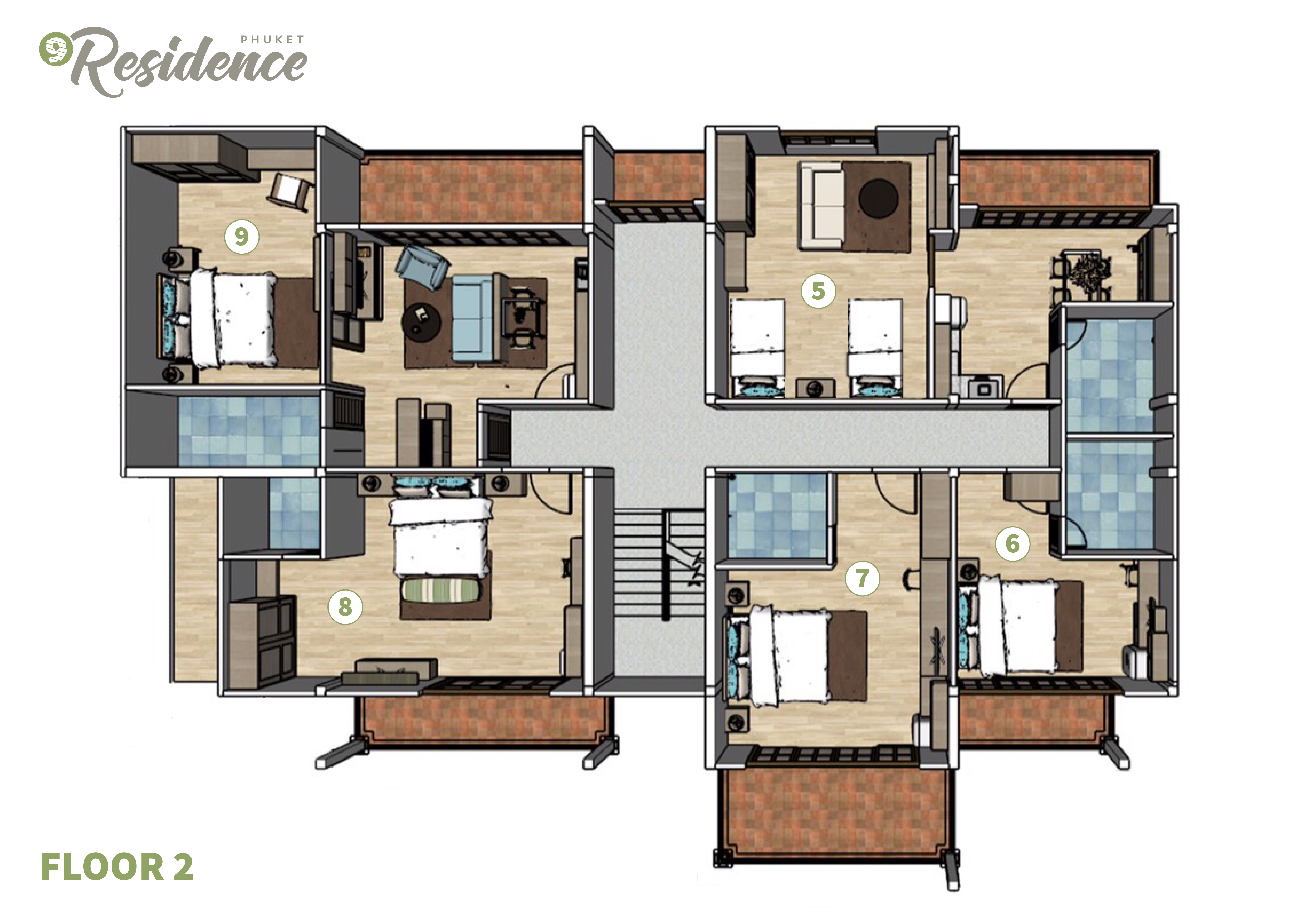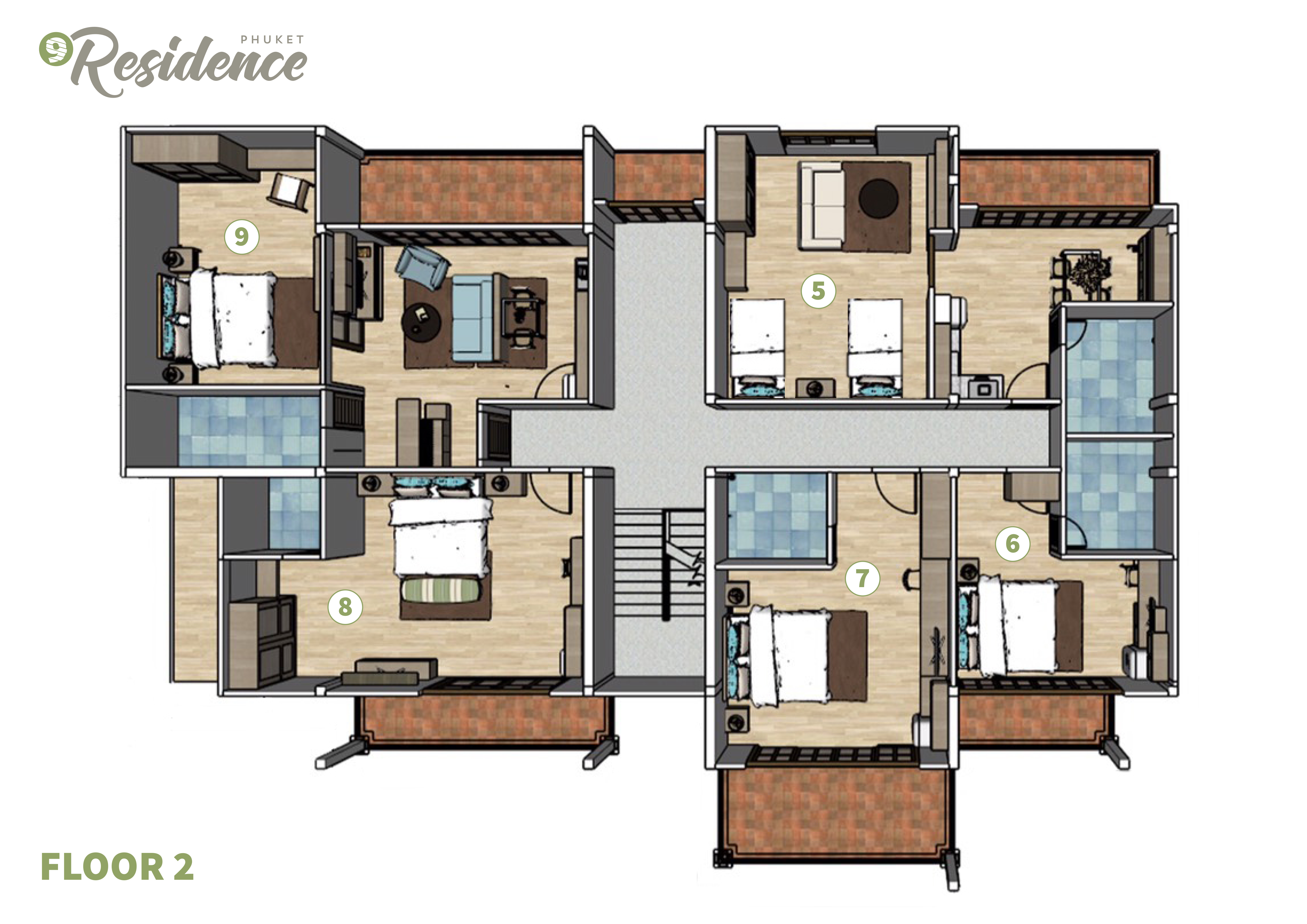 Each bedroom has en suit bathroom, king-size bed or two single beds, work desk. In fact, each bedroom is a small studio. Spacious living-room with kitchen, work desks, terrace, large swimming-pool, garden are the common area.
Cleaning service is provided in the residence. On demand we can arrange food delivery (breakfast/dinner), beach or shopping-mall transfer by minivans.
Weddings, masterclasses, seminars, expos
If you are holding a big event, you may need apartment or villa complex or the whole boutique hotel with developed area facilities.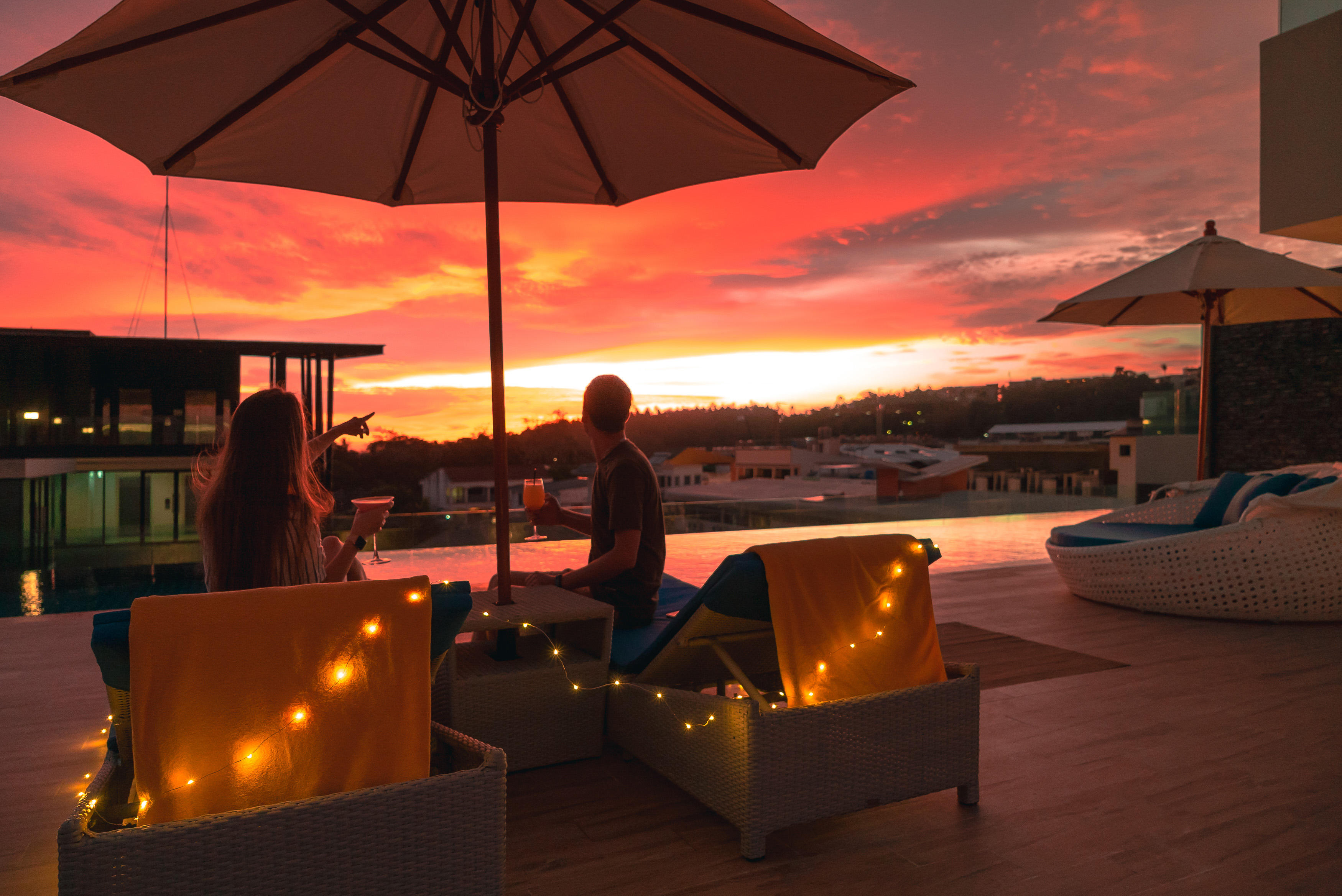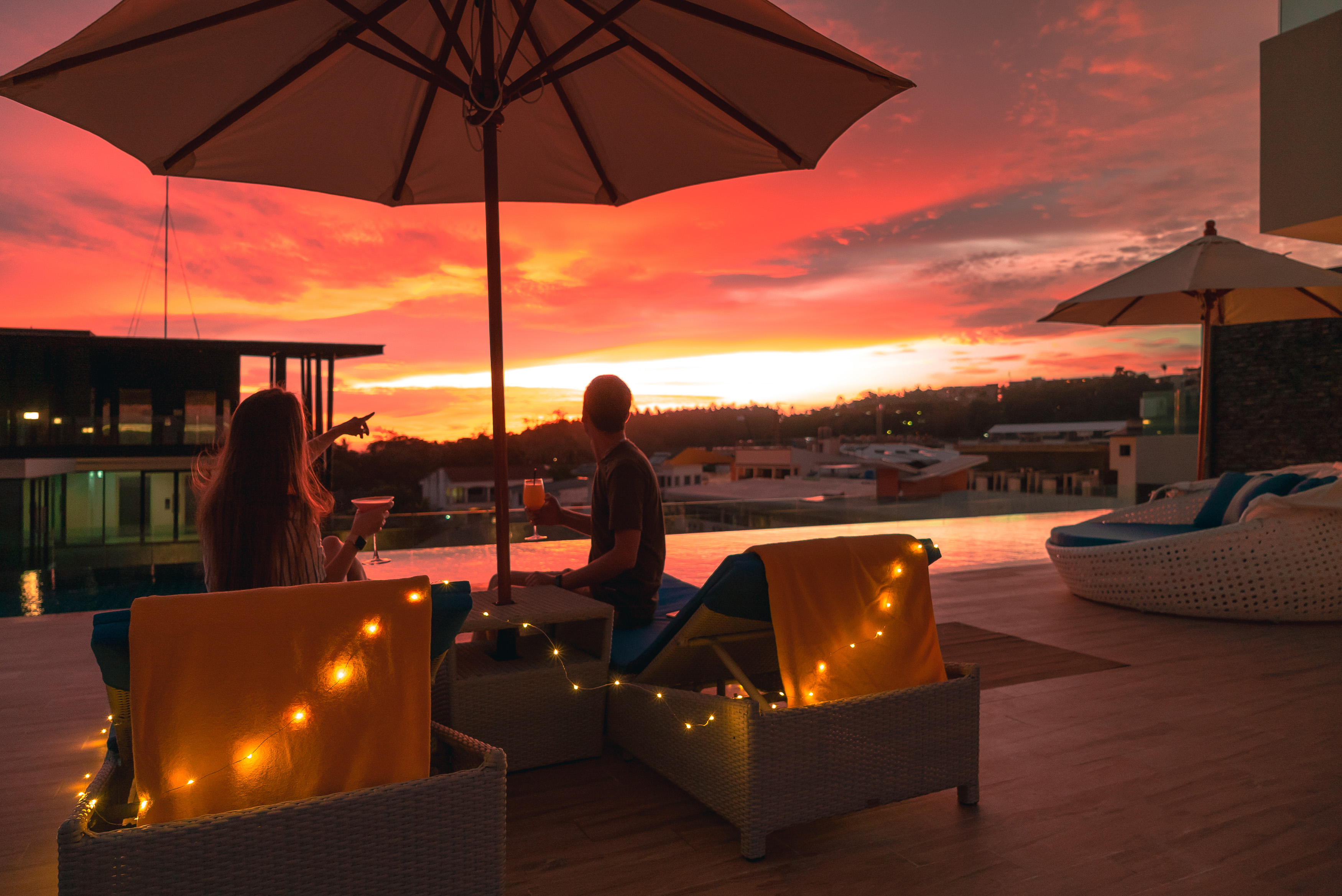 For big events you may choose the following options:
35 bungalow resort with a common pool and garden, 500 meters away from Kata beach
Boutique Hotel in Karon, 48 rooms with rooftop swimming-pool
8 villas complex, Rawai
6 bedroom pool villa or a few villas in Rawai VIP Villas complex
Residence with 9 apartments in Chalong, a few villas in villa complex
The whole storey or a few storeys in condominium
For any event we can offer you the best option of accommodation with the highest level of convenience and service, good location and area facilities.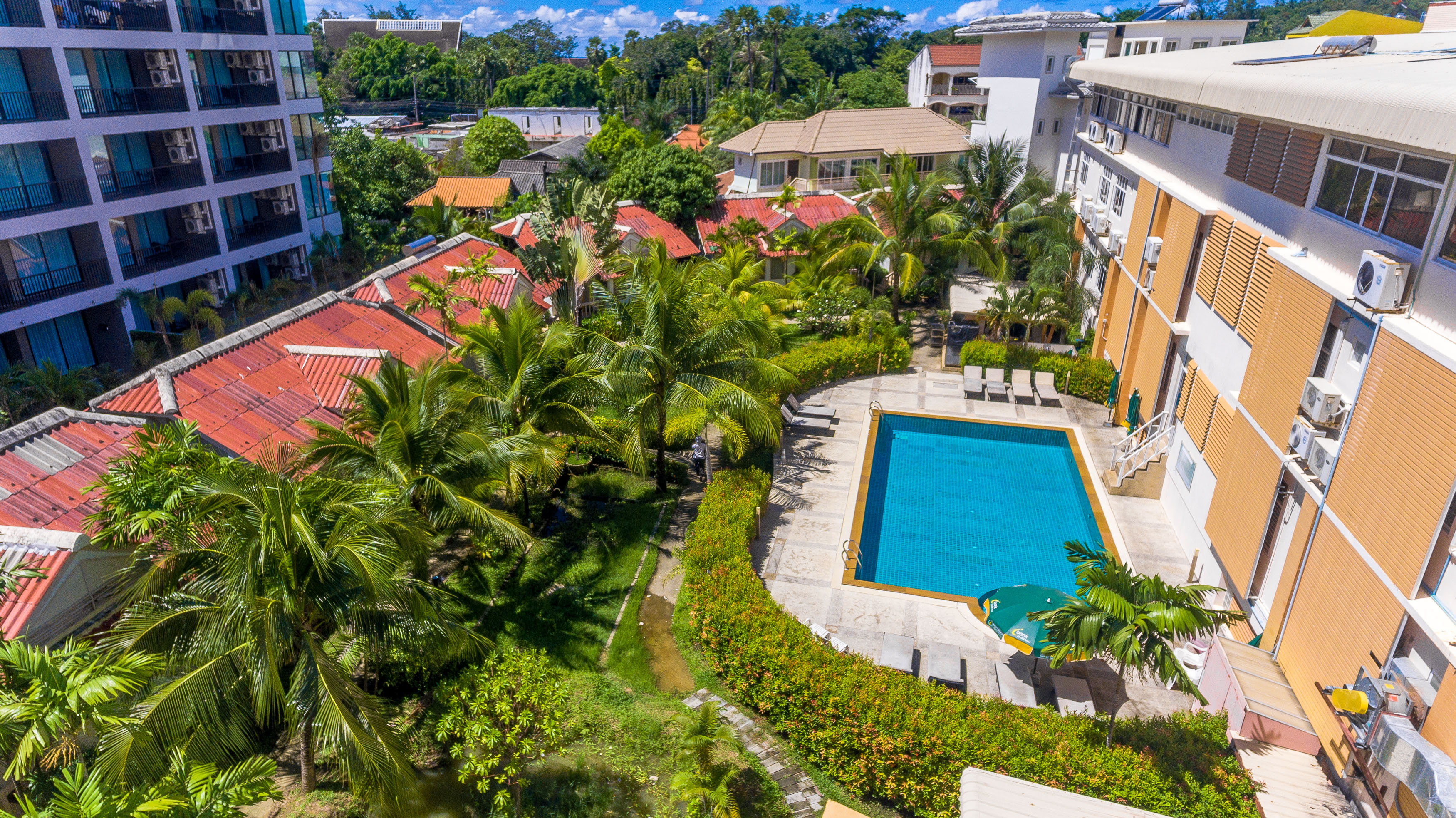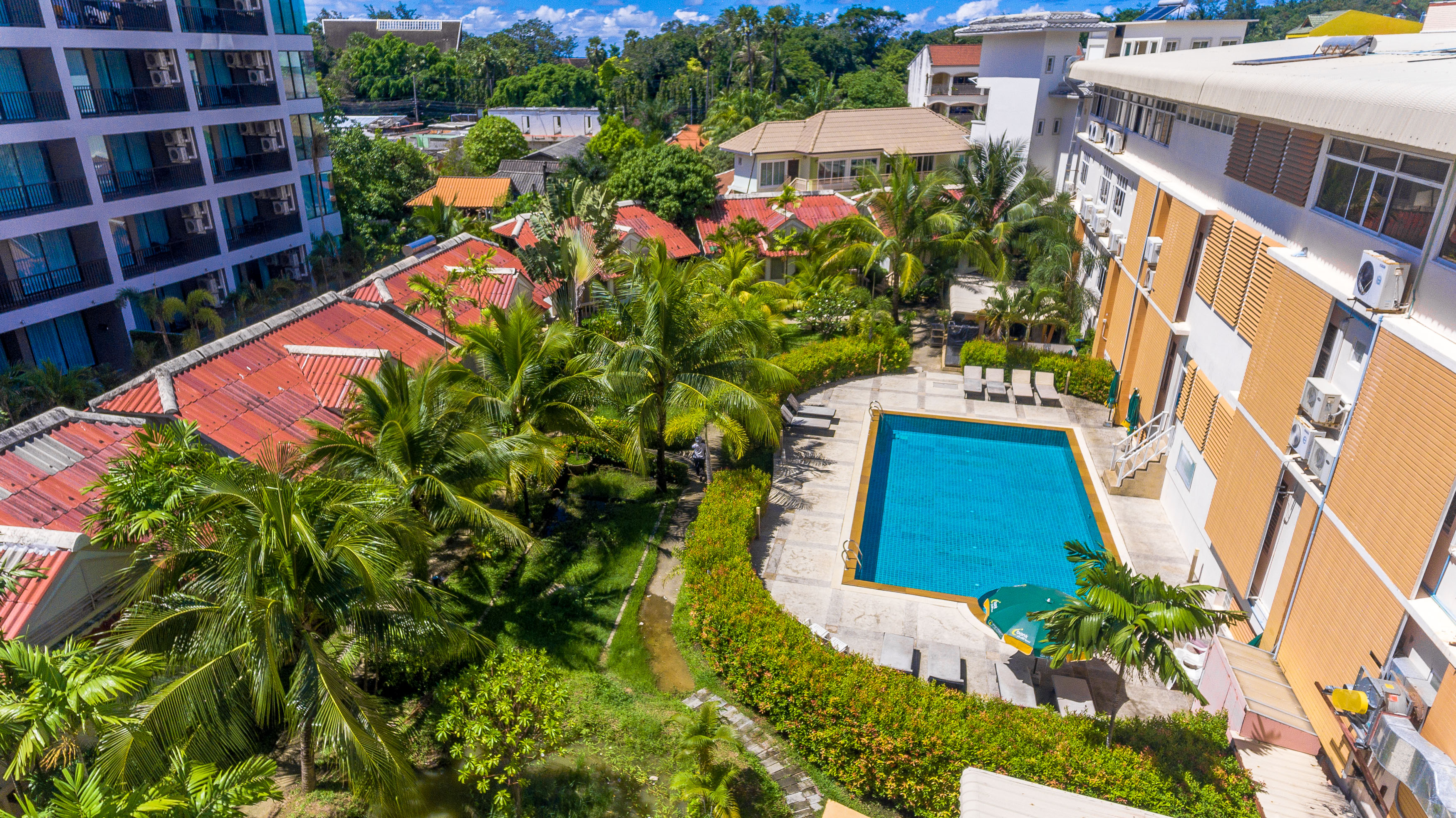 Contact us
If you need to rent an accommodation for a big group of people, please, contact us, inform about the purpose of travel, amount of guests, dates, budget and other details. We will offer you available options. In case there is no available accommodation, we will recommend you the place to stay and advice on prices.
Welcome to Phuket!
Ksenia Bondarenko
Reservation Department